(Japanese) Visit to Republic of Maldives Tour of Republic of Maldives
Teruaki Ikari,President of Saitama-ken Badminton Association in Japan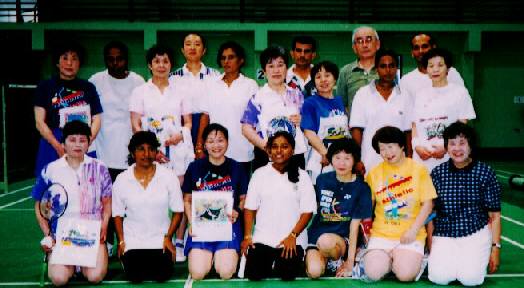 On March 21-29th, 1999, eleven players of the Badminton Mammies team of Saitama prefecture had friendship matches with the Mammies team, Juniors team and "Social" team in the Republic of Maldives.
In Maldives, there are about 1,200 islands spread out on the equator in the Indian Ocean. They are trodinarily
beautiful small islands, in fact, the original meaning of Maldives is garlands. Although they haven't any special atural resources, tourism is very popular.
The population of Maldives is about 260,000. The name of the capital city is MALE. Over sixty-thousand eople live there. They import almost all of their all kinds of daily goods from Asia and Europe. Everyone in the Maldives are Moslem.
We got the good opportunity to visit the Maldives from a Japanese badminton coach called Miss Wakai, who is registered in our prefecture. At this time, she is finishing her two year coaching contract for the Japan international Corporation Agency.
One day, she sent me a letter : " there are some Mammies badminton players who are interested in playing a friendship match with Japanese". Early in July last year, I was told to encourage her ideas when I visited the Maldives. One of our goals is to promote International friendship.
On March 22nd, we left Narita Airport to go to Colombo, Sri Lanka, which was a ten hour journey. After we arrived at Colomb, we transited for two hours at there, after this we arrived at FULHULE International Airport in the Maldives. It took a total of 14 hours to get there. Miss Wakai met us at the Airport with some badminton players. From the airport to the capital city, MALE, it takes 20 minutes by a small local boat.
First day: We didn't have any accidents during the trip. Actually, the average age in our group was over 55. We slept well.Second day: In the morning, we had a light practice in the gym, and in the afternoon, we took a rest. That evening, we had a welcome party by Maldivian mummies. They invited us to a small private island. One of the mammies own a ship. They served Maldivian curry and so many different kinds of local food. It was a really good taste. The Maldives most charming point is the color balance of the natural sea between the clear blue sky. The sun sets on the west side of the island and it fills the sky with breathtaking colors.
I was impressed to look at the huge shining Southern Cross.
Third day: We had the friendship match with them. We had a good time. Although we couldn't speak English, we managed to communicate with them through badminton. The results of the friendship match were as follows:
SHIMLA/RASHIDA 0 - 2 FUKASAKU/ASANO
NAAZU/LELA 0 - 2 NARAHARA/MURATANI
SHIFA/SHIMULA 0- 2 SUZUKI/MIYASAKA
We also had a match with the MALE junior players who learned badminton from Miss Wakai. They were surprised that our players were all over fifty and we were very excited to play. They had never seen such players before. In the Maldives culture, only young ladies play sports.
Fourth day: We had a friendship match with the social team at 6 am. We met a devout Moslem, who was one of the social team's players. He never tried to shake hands with the Japanese Mummies, even on court. Instead, he put his hands together.
We saw many traditionally dressed senior women and men who were wearing characteristic hoods and long sleeve shirts. We didn't care much for the local culture during our stay in Male. I'm sorry to say that.
Fifth and Sixth day: We really enjoyed "resort life" of Maldives. We stayed at "Laguuna Beach". It's far from Male, about 20 minutes by speed-boat. There was an extraordinarily beautiful beach, sea and plenty of tropical fishes. We saw a herd of dolphins and a turtle by snorkeling. There is a Marine Aquarium in the
Maldives Sea. We were a little surprised by the contrast between local life and resort life. We never experienced such places. It was such a nice place that only visitors can know.
Midnight, on March 29th, we left FULUHLE Airport being sent off by some badminton players and Miss Wakai. Before lunch on the 29th, we arrived at Narita Airport. We were a little tired, but we were fully satisfied by this tour. Even though we had some communication problems by language, we made badminton friendships.
We're looking forward to visit other interesting countries for international friendship of badminton.
Thank you very much (Shuukulia) for Maldives. We would like to visit again in the near future.
Translated by Takumi Shirai, member of Saitama-ken Badminton Association